This article is from: Keyin media digital printing public number
In the afternoon of April 13th, the 2022 "High-speed Inkjet Printing in China" online forum held by Keyin Media printing Technology magazine was a complete success!

This online forum is themed with "High-speed inkjet opens up a new situation", gathering 9 upstream and downstream experts and senior inkjet personages, centering on inkjet printing, digitalization and other topics, to interpret the current development trend and direction of inkjet printing technology, and jointly discuss the opportunities and challenges of high-speed inkjet printing at present. The live broadcast received a good response, with more than 3,800 views, 17,000 likes and 400 comments, which won recognition and recognition from everyone and triggered a heated discussion.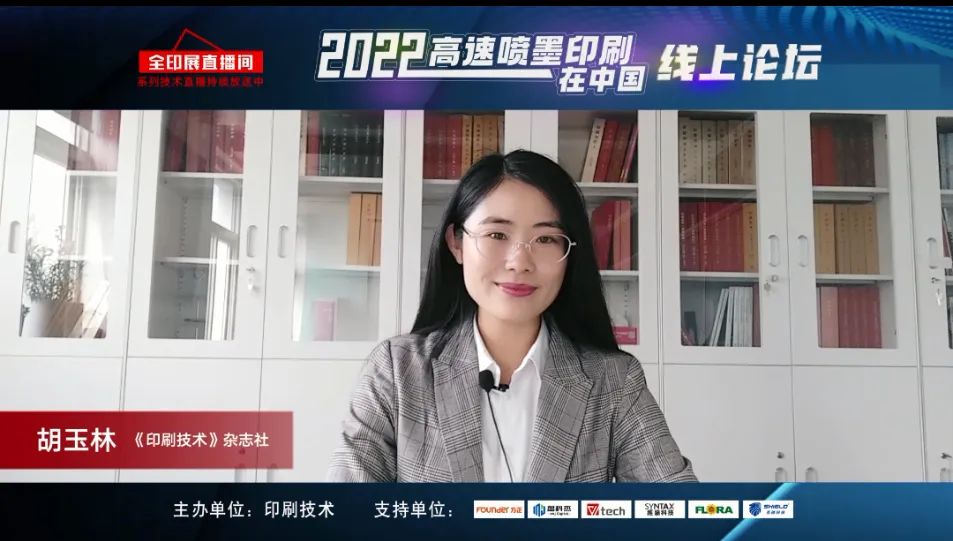 Yulin Hu of Printing Technology magazine moderated this live broadcast
First of all, Li Yang, executive editor of digital Printing direction of Printing Technology magazine, brought the theme report of "Analysis on the development of China's High-speed Inkjet Printing Market in 2022". She said that in 2021, the number of domestic high-speed inkjet printing equipment exceeded 800, which has increased from 41 in 2015 to 823 in 2021. The number of installed machines in this year is 299, an increase of one compared with 298 in 2020. The installation capacity of nearly 300 units indicates that the market capacity and demand for high-speed inkjet printing equipment still have great potential.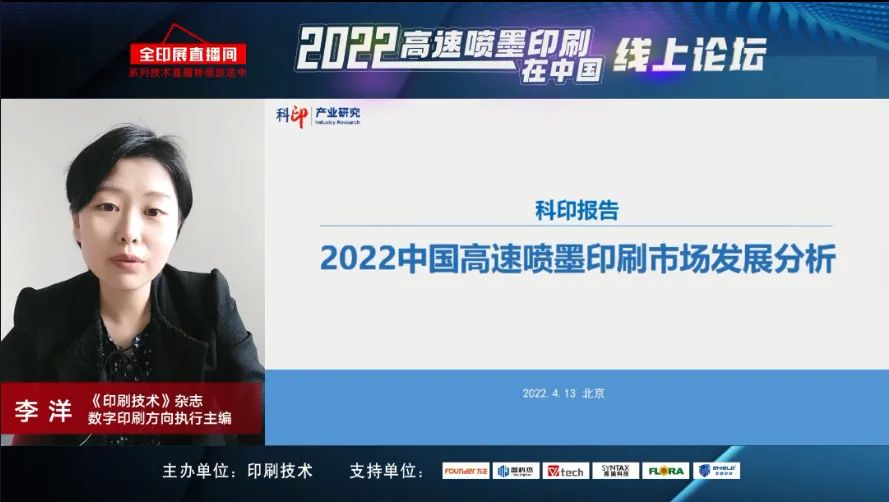 Li Yang, executive editor of digital printing direction of Printing Technology magazine
Followed by Beijing Peking University founder electronics co., LTD., printing, products division general manager Zhou Zhendong brought "inkjet technology, printing new formats" speech, he in his speech, analyzes the high-speed inkjet cycle because of its structure is simple and the material of low cost and great potential of industry, the continuous increase in the device speed, under the background of peripheral continues to improve, Application scenarios and application scope will be more and more wide, in the book and journal printing industry, through the construction of digital production equipment as the core of the new factory, a comprehensive challenge offset printing new path.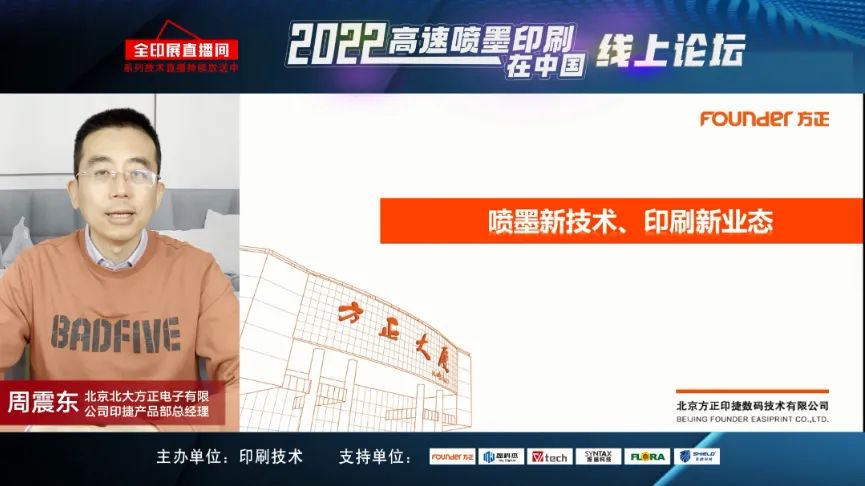 General manager of Imjet Product Department of Beijing Founder Electronics Co., LTD
Zhou Zhendong
Shandong's INKJ digital technology co., LTD as one of the world high-speed inkjet cycle digital printing solutions provider, general manager of Tan Ming with "high-speed inkjet how to through the pollen", pointed out that the current printing market encounter cold accompanied by a few big problem, and by analyzing the case itself and customers, sharing by using high-speed inkjet cycle digital printing machine how to realize the profit, How to achieve cost saving, increase production, to solve the production needs of users, and believe that the future of high-speed inkjet will be better and better, belongs to the spring of high-speed inkjet printing will soon come.
山东盈科杰数码科技有限公司总经理谭明
Then, Wang Jian, technical consultant of Tiankewei Intelligent Technology (Guangdong) Co., LTD., brought a wonderful speech with the theme of "the new situation of high-speed inkjet". In his speech, he emphasized that inkjet technology is the correct development direction of digital printing, and described tiankewei's "single Pass multi-channel" and other unique technologies. And strengthen the development of sheet paper equipment, endow high speed inkjet printing machine with multi-function characteristics, positive strategic adjustment can better adapt to the changeable market changes, and finally pointed out some large blue ocean markets for inkjet technology to show its talents.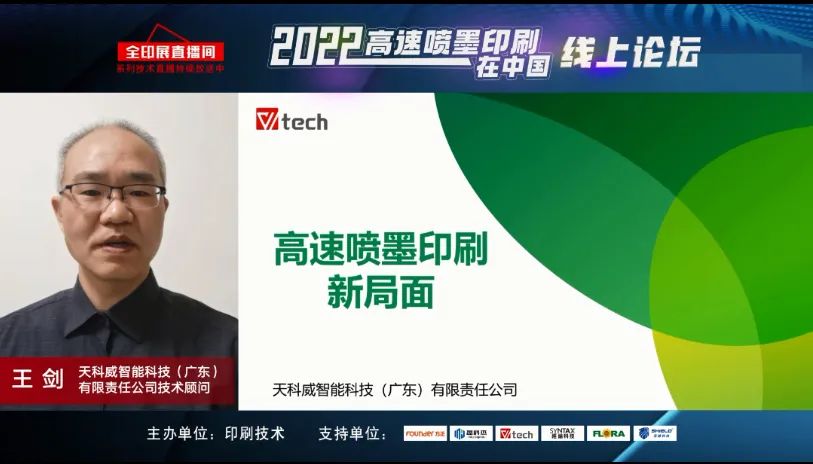 Technical Consultant of Tiankewei Intelligent Technology (Guangdong) Co., LTD
Wangjian
"Printing on demand" is the hot topic of this forum. Liaoning ding cadastral digital technology co., LTD. General manager room peak brought "dig technology advantage Anchor the resources market "speech, he expressed in share in the company to explore in the field of high-speed inkjet printing, in view of the prepress process color management, puzzle, file output link, set up quickly, rigorous management system, standardized before printing, according to the characteristics of the order, Establish pre-press process standard to ensure product quality and cycle time.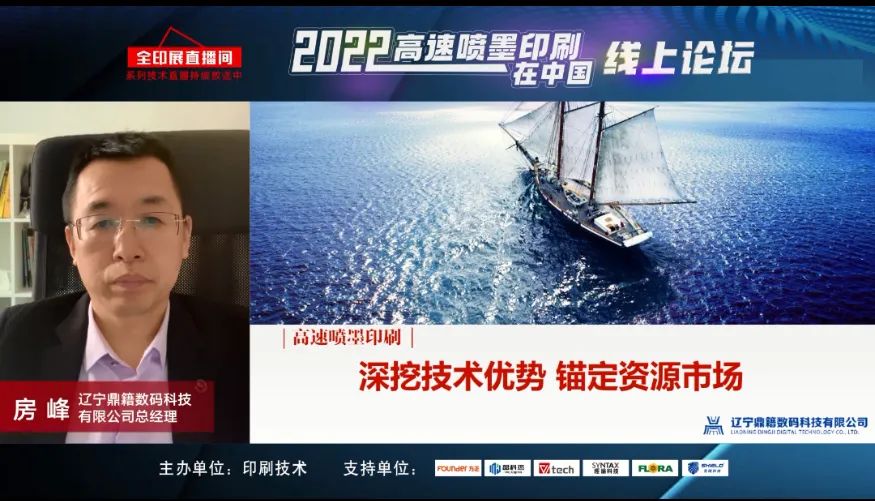 Liaoning Dingji digital technology Co., LTD. General manager Fang Feng
If the whole process of high-speed inkjet printing is compared to a race, digital post-printing is undoubtedly the last mile sprint. This BBS, economy science and technology (shenzhen) co., LTD., marketing director liu yuanhai brought us "different templates, how to improve the overall optimization after digital printing ink jet efficiency" the theme of the speech, she referred to in the share, in the face of binding books, hardcover books, riding a nail, a single print, desk calendar, such as different live parts, according to the characteristics of living things and the demand, after selecting the optimal digital printing.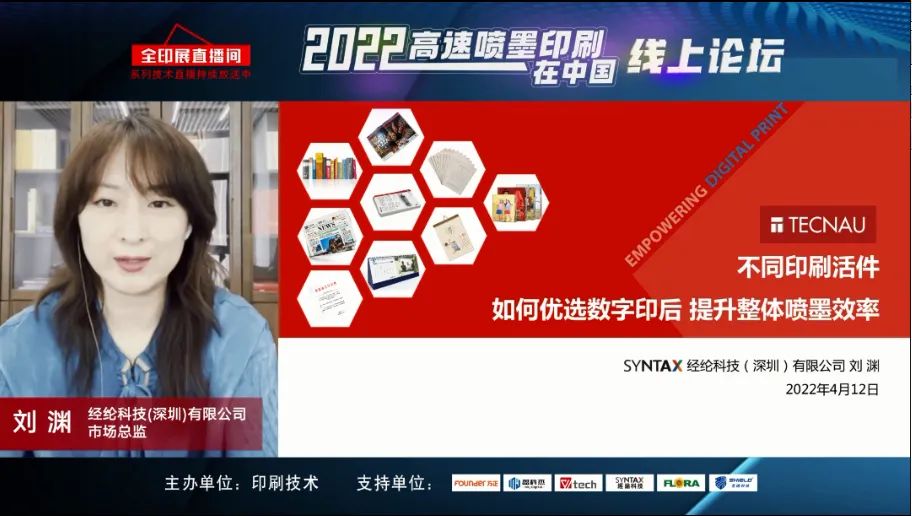 Liu Yuan, marketing director of Warp Tech (Shenzhen) Co., LTD
Subsequently, Shenzhen Runtianzhi Digital Equipment Co., LTD. R&d director Xu Xing brought you a wonderful speech "digital printing power enterprises ride the wind and waves". He described in the outbreak era, the market demand to accelerate the digitization, keep up with market changes, companies use multiple overlapping nozzle hole technology, continuous stable ink, print nozzle drive control technology, such as nozzle redundancy compensation technology to achieve digital innovation, puts forward scheme of digital ink jet printing, power enterprise production, meet the new opportunities.
Xu Xing, r&d director of Shenzhen Runtianzhi Digital Equipment Co., LTD
In the past two years, influenced by the epidemic and the "double reduction" policy, the book retail market has encountered great challenges. This BBS, SAN DE JingYue shenzhen technology co., LTD., deputy general manager and product manager Ye Ming to "common path to explore traditional books and periodicals printing the digital transformation of", for our in-depth interpretation under the outbreak, the stock market under the traditional books and periodicals printing digital transformation of optimization, the emphasis on digital printing is the focus of the digital transformation, at the same time with the traditional equipment after fusion, This is also the focus of the current book printing factory.
Shenzhen Shengde Jingyue Technology Co., LTD. Vice General manager and product director
Ye Ming
Finally, Xu Mingzhang, executive Deputy General Manager of China Commercial United Printing (Guangdong) Co., LTD., gave us a wonderful speech on "Printing and Leading the future -- the road of High-speed digital inkjet printing of China commercial". In his speech, with the history as the context, he described the company's digital printing development process, and proposed that in the digital business model, the construction of digital fast printing shop, full digital printing center, small and medium-sized batch commercial printing, relying on IT technology to achieve the docking of traditional and digital, to achieve the optimization and upgrade of the existing production management system.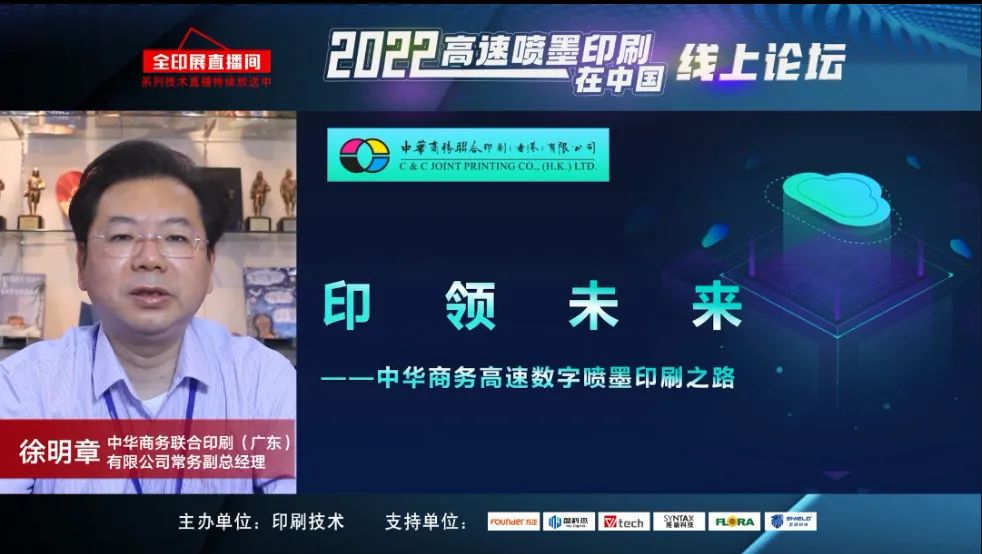 I believe that all digital printing practitioners can gain and inspire, combined with their own situation, to achieve insight into the new opportunities of high-speed inkjet printing market, to explore the new wind of inkjet printing technology transformation.